SAAKA uses super absorbent, odor combating, viscose from BAMBOO fabric between layers of antimicrobial poly/spandex wicking fabric. Moisture is wicked away from the skin to the absorbent, anti-odor middle layer, then drawn to the surface air where it can evaporate.

​Our outer fabric is made with MAXDRI moisture management technology and MicroBlock antimicrobial finish.

"We all want to keep sweat out of the way of our game. SAAKA is a simple and effective concept that solves a frustrating problem."
- Dr. Steven Wieder,
creator/owner

SAAKA X Band is designed to allow for customized comfort and fit. Guard a little too tight for one of its positions? Hold sections of the fabric and gently stretch for 5-10 seconds working around the entire band until desired fit is achieved. ​
All products should be cared for with instructions applicable to that product. Failure to do so may void product warranty.​
Hand-wash on use gentle cycle in a mesh bag.
Air or line dry only.
Do not use fabric softeners.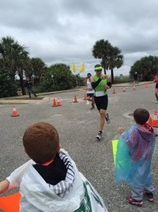 Alex Reiss
Triathlon Runner
"I just finished the Rev3 70.3 triathlon in Venice Beach, FL. I never had to wipe the sweat off my forehead or out of my eyes. I have three bands now and they are great!"